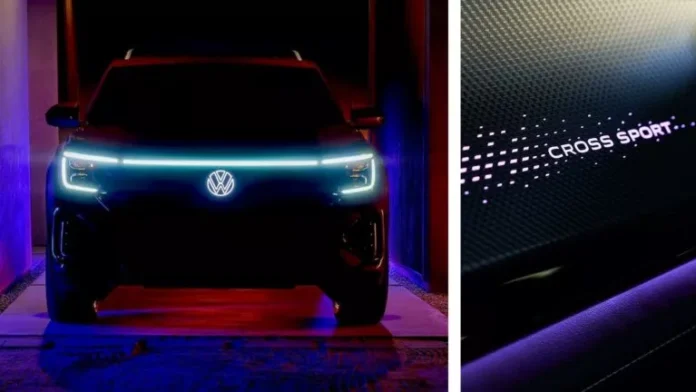 Volkswagen used his Instagram to announce that the renewed vw Atlas and Atlas Cross Sport 2024 will debut on February 9 at the Chicago Auto Show.
The announcement was accompanied by an image of the front area of ​​the models, with a design similar to its Chinese-spec brothers that have already been updated.
VW Atlas was first introduced in 2017, with a facelift in 2020 to match the then brand new Atlas Cross Sports. Now, after three years, the German firm considers that it is time for a renewal.
While darkness predominates in the teaser, it's enough to reveal the SUV lighting signature which will get a set of new headlights, a full-width LED bar, and a illuminated VW emblem.
Also, you can see the redesigned air intakes in the bumper with a glossy black finish, with sporty look.
The second picture shows a board with letters «Cross Sport» illuminated, as well as purple ambient lighting.
The 2024 Atlas teaser hints that the US-spec SUV will receive similar treatment, albeit with its own market characteristics.
Read More: Volkswagen Touareg prototype hides its new style with stickers in new spy images
Among them, an LED bar on the grill, very different from what is presented in the Terramont, which places it in the middle. Its bumper is also different, despite sharing some visual traits.
Changes will also come to the interior of the 2024 Atlas family, with a new, larger infotainment touchscreen, more technology, and new color and trim combinations.
For now, no information on the propulsion systems has been revealed, so it only remains to wait for tomorrow.

Writing New Electric Autos Source: carscoops