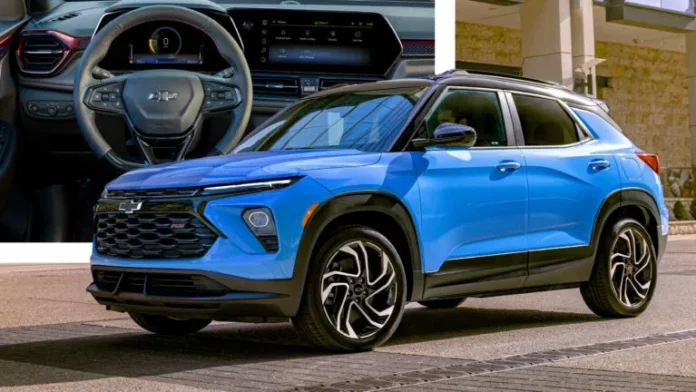 The chevrolet trailblazer It will arrive refreshed for the 2024 model year with some subtle tweaks to the exterior styling, as well as a larger touchscreen on the inside. At the same time, it will continue to feature the same engines, same trim levels as well as most of the same interior content. Here we briefly tell you what you can expect from the 2024 Chevy Trailblazer.
The updated 2024 Chevrolet Trailblazer
From the outside, the new Trailblazer stands out with narrower front fascia and daytime running lights. The grille is still divided into two sections, but the top is minimized and the bowtie emblem has also been moved to the crossbar. Slight differences in front fascia styling, lighting and grille design are expected to depend on trim.
Additionally, the American automaker is introducing new wheel designs across the truck's lineup, including a set of 19-inch wheels for the RS version. New colors are also in the catalogue: Copper Harbor Metallic and Cacti Green. The interior also gets some major updates.
Notably, Chevy features a new infotainment system 11-inch diagonal center and an 8-inch diagonal digital gauge cluster. Both are big improvements over the previous year's best option, which was an 8-inch infotainment system and rather drab gauge cluster. As a result of the larger screens, the manufacturer moved the climate control vents from above the infotainment screen to below.
Overall, this gives the dash a cleaner look with a more upright appearance in addition to what would appear to be easier operation. It is worth mentioning that it is standard on all four models (LS, LT, ACTIV and RS). It also includes Android Auto wireless and Apple Car Play. Otherwise, the Trailblazer is pretty much the same for 2024.
Thus, it still comes with a 137 hp (102 kW) 1.2-liter engine or a 1.3-liter unit that makes 155 hp (115 kW). Front-wheel drive is standard, though the all wheel drive is still available. Almost all Trailblazers use a continuously variable transmission to deliver power. The exception is those with a 1.3-liter engine and AWD. In that case, the SUV uses a conventional nine-speed automatic transmission.
IT MAY INTEREST YOU:

Next-generation Chevrolet Malibu will arrive in 2025

The 8 Best Crossovers, Small SUVs 2023
Fountain: carscoops