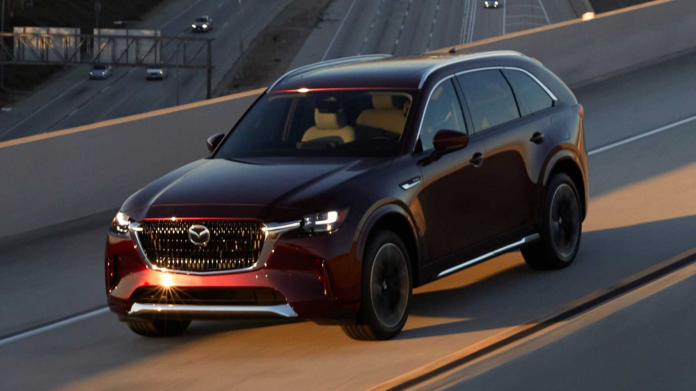 The Mazda CX-90 2024 With a maximum of 340 available horsepower, it is in fact the company's most powerful production vehicle. But in addition, it is also a hybrid, combining various degrees of electric propulsion depending on the chosen propulsion system.
2024 Mazda CX-90 Debuts
The CX-90 is powered by a turbocharged 3.3-liter inline-six engine that develops 340 hp and 369 pound-feet of torque sent to all four wheels. That's not pure combustion power, though, as Mazda places a small electric motor between the engine and transmission in a mild-hybrid setup. The company doesn't offer individual power ratings, but the engine moves at low speeds without needing the I6.
The same setup is also found on the CX-60. A Mazda e-Skyactiv PHEV powertrain. A 2.5-liter four-cylinder is powered by an electric motor to make a combined 323 hp and 369 lb-ft of twist, once again going to all four wheels. A 17.8 kWh battery powers the motor, giving the CX-90 the ability to travel on electricity alone for longer.
Regardless of the engine, two things always stay the same. AWD is standard, and power goes to the ground through a new eight-speed automatic transmission. With electrification, Mazda says power delivery with this transmission is smooth and direct while improving efficiency. The manufacturer has not shared mileage, acceleration or top speed figures.
IT MAY INTEREST YOU:
The 8 Best Crossovers, Small SUVs 2023

The best 5 SUV Quality-price!
Interior of the CX-90, an exclusive Japanese style
Mazda hopes the CX-90's stylish interior will connect with passengers. Thus, a central 12.3-inch infotainment screen sits atop the dash, complemented by a variety of touch controls to operate commonly used functions such as seats and climate control. In addition, another digital display is available for the driver, and features like third-row air conditioning and USB-C charging ports are available. A full list of options will be available in the future.
All of this contributes to a theme of modern technology fused with a traditional setting. Additionally multiple materials, from Nappa leather to wood and chrome, are found throughout the interior. The dashboard features a special fabric with traditional Japanese stitching for a distinctive look. Details such as headroom, legroom or cargo space are not available.
In a world of rugged-looking SUVs with contrasting edges and angles, Mazda gives the CX-90 a more organic look. His rear end is almost disproportionately large, all the better to accommodate the three row seats inside. But the curves are also designed to improve reflections coming from the vehicle.
Various trim packages will add or subtract chrome, and 21-inch wheels are available. There's also a new exterior hue called Artisan Red, and underneath it all is Mazda's i-Activsense suite of driver-assists. Some systems like active cruise control, dynamic braking and blind spot monitoring are included as standard equipment.
While the debut of the 2024 Mazda CX-90 is official, there are still many things that remain a mystery. Expect to hear more from Mazda in the coming weeks as we get closer to the sale date for the new CX-90.

Font: Engine1