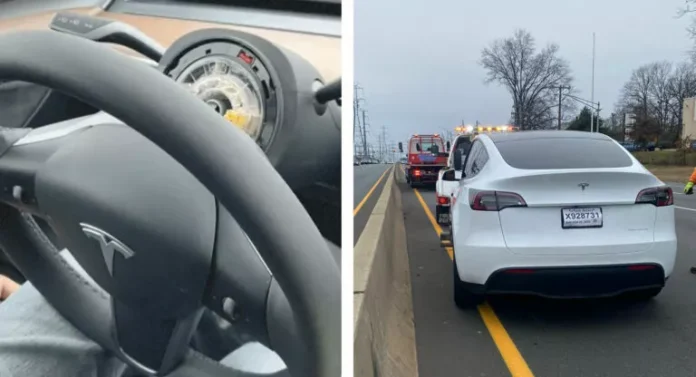 The owner of a Tesla Model Y used the little bird's social network to denounce that his recently delivered vehicle was He was left without a steering wheel while driving.
The complaint comes from the user Preneh24 on Twitter, and states that he received his Model Y on January 24 of this year and was driving it normally when, suddenly, The steering wheel came off the steering column.
Fortunately, for the owner and his entire family, there were no vehicles nearby, so he was able to stop next to the central divider. He later required a tow truck to take the car to a Tesla service center. The problems continued.
@elonmusk @TeslaOwnersWW @BLKMDL3 Family was excited to receive Tesla Y delivery on 1/24/2023. Was driving on highway and all the sudden steering wheel fell off, was lucky enough there was no car behind and I was able to pull on devider #SafetyFirst #Fixit #TeslaModelY #help pic.twitter.com/4UMokFA2cv

—Prerak (@preneh24) January 30, 2023
A Tesla representative noted that there was no report of a problem with the vehicle. The owner made the report to Tesla and from that moment the investigation began. The result was a invoice for $103 to repair a manufacturing defect.
The man thought that should not pay for the repair and the bill was updated to remove the cost.
@elonmusk Am I responsible for manufacturing defect? It's not even week and getting bill for faulty steering wheel. Isn't it company's responsibility to fix it? I would greatly appreciate refund and keep the car as we lost trust and family is not feeling safe driving it back. pic.twitter.com/7ZsO4ZiXNu

—Prerak (@preneh24) January 30, 2023
Preneh24 shared a couple of screenshots of the conversation with the Tesla representative and requested a full refund. At that time they told him that there was no vehicle return policy.
Read More: Tesla Model S caught fire on a California highway and they needed more than 20,000 liters of water to put it out
"We have lost trust in Tesla and would greatly appreciate this car being returned and a full refund (sic) issued. I feel safety is more important than tech car", said.
Writing New Electric Autos Source: carscoops