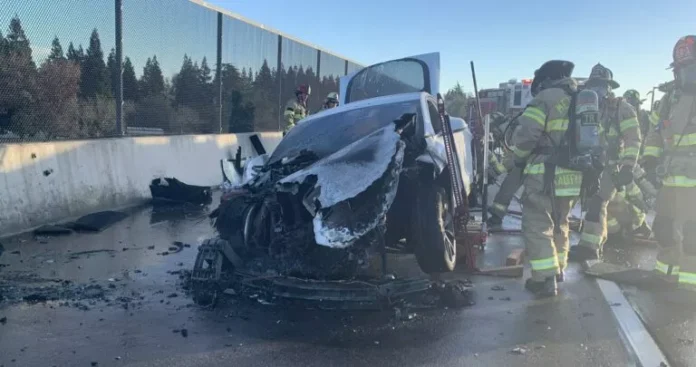 A Tesla Mold S caught fire on a California highway and Sacramento Firefighters were forced to use 22,700 liters of water to control the flames.
The city's Metro Fire Department reported that the owner did not notice anything out of the ordinary before the fire started on Highway 50 around 4:00 p.m. on January 29.
No one was injured in the accident, but firefighters made a significant effort to control the fire. The California Highway Patrol was forced to interrupt the vehicular passage of the highway. "Fire will not extinguish/attempt to flood (vehicle)"CHP reported, according to The Sacramento Bee.
Read More: How much does it cost to charge a Tesla in Mexico? (2023)
Two fire trucks, a water truck and a ladder truck were required. The team extinguished the fire, then used jacks to raise the vehicle to gain access to the battery pack from below.
"The vehicle's battery compartment caught fire spontaneously while traveling at freeway speeds on EB Hwy 50", reads the tweet from the fire department. "The fire was extinguished with approximately 6,000 gallons of water, while the battery cells continued to burn. Fortunately no injuries were reported.".
Crews arrived to a Tesla Model S engulfed in flames, nothing unusual prior. 2 Fire Engines, a water tender, and a ladder truck were requested to assist. Crews used jacks to access the underside to extinguish and cool the battery. Thousands of gallons were used in extinguishment. pic.twitter.com/5dIXxo9hP5

— Metro Fire of Sacramento (@metrofirepio) January 29, 2023
For comparison, between 5,000 and 8,000 gallons of water are used during a gasoline-powered car fire, according to the comments of the Austin, Texas, fire marshal. . Metro Fire of Sacramento He says that the 22,700 liters of water are those that are normally used to put out a fire in a house.
This is the first time a Tesla has caught fire and requires thousands of liters to put out the fire. In November 2022, a Tesla Model S caught fire in Pennsylvania, although this fire started after it hit roadside debris.
The vehicle battery compartment spontaneously caught fire while it was traveling freeway speeds on EB Hwy 50. The fire was extinguished with approximately 6,000 gallons of water, as the battery cells continued to combust. Thankfully no injuries were reported. pic.twitter.com/PRmlWzQdXS

— Metro Fire of Sacramento (@metrofirepio) January 29, 2023
Writing New Electric Autos Source: carscoops