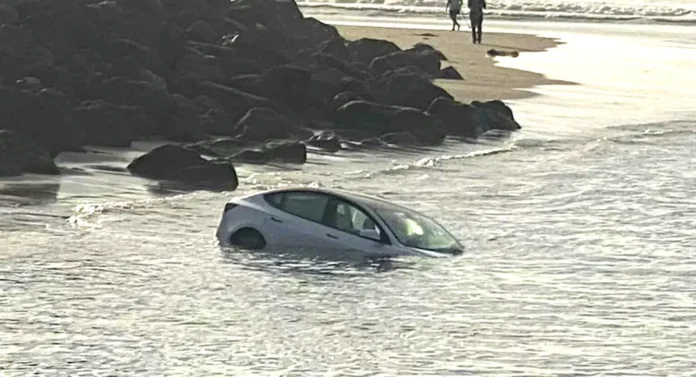 Authorities found a Tesla Model 3 underwater in the Santa Barbara beach, California. The discovery was made by the Carpinteria-Summerland Fire Department around 8 a.m. on Monday.
The incident is under investigation as they try to determine how the electric vehicle ended up swimming with the fish.
John Palminteri reported that firefighters searched the vehicle and the surrounding area for anyone related to the Tesla. No one was found.
Raquel Zick, public information officer of the Santa Barbara County Sheriff's Office, commented that: "We made sure the vehicle was not reported stolen and notified the registered owner that it was their responsibility to get it back." According to Zick, this situation wasn't too different from the Bronco that suffered a similar fate.
A Tesla was found floating in the ocean off Carpinteria this morning about 8 am Firefighters searched the car along with the surrounding area, but no one was found. The Santa Barbara Co. Sheriff's Dept. is investigating. (photos: Carpinteria fire, Robin Karlsson, Bill Ehrgott) pic.twitter.com/X1CAmcdL4V

— John Palminteri (@JohnPalminteri) October 31, 2022
"They drove it on the beach, got stuck, left it there, and the tide came in." Zick added.
Read More: Tesla Cyberquad for kids recalled after adult rolled over and was injured
Removing a vehicle of these characteristics from the bottom of the beach is complicated, sophisticated tools will be required. Heavy-duty airbags are the only way to get you out of the sand.
Fortunately, no one was injured and no pollutants are being spilled into the ecosystem. The owner likely already knows where they parked their Tesla Model 3.
Editorial New Electric Autos Source: Carscoops