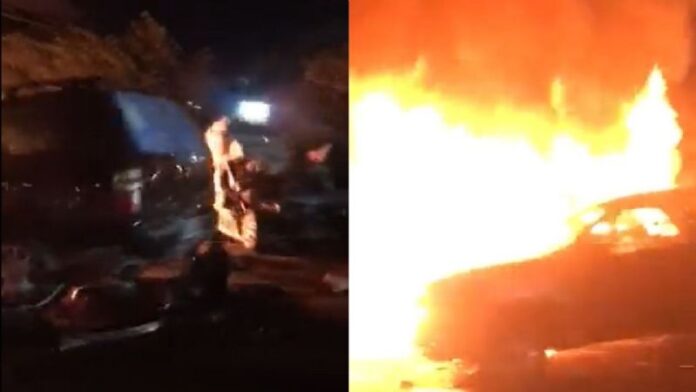 At least three people ended up dead after a trailer hit 10 cars in Querétaro.
Several dead and injured is the preliminary balance that is reported left this Thursday impact of a trailer to vehicles on the Mexico-Querétar highwayor, in your direction to Mexico City.
According to the report of the State Civil Protection sources, a trailer rammed at least 10 vehicles after running out of brakes near kilometer 159+050at the height of the municipality of San Juan del Río.
After closing this road in the direction of the country's capital, users broadcast videos in which several cars were damaged and some even caught fire.
SEE ALSO: Mexico: pipe truck overturns and causes asphalt and diesel spill in Salamanca
In said material, a woman is heard screaming "Oh, a baby, a baby, oh my God!" while passing to the side of the accident.
So far, only the National Guard highway unit has reported that traffic has been restored in the area.
«In #Querétaro, circulation is restored, after an accident, near km 159+050 highway (1720) Mexico-Querétaro, towards CDMX. Drive with caution»wrote.
Meanwhile, the The Government of Querétaro specified that it is in collaboration with authorities of San Juan del Río in the accident area.
State sources predicted that in a future report they could increase the number of deaths, as they continue to work in the area.
‼️🚨 THREE DEAD BY MEGA CARAMBOLA IN MEXICO-#QUERETARO AT THE HEIGHT OF SAN JUAN DEL RÍO #QUERETARO 🚨‼️ two burned, and a minor more deceased. In addition, there are more than a dozen injured. A dozen cars are involved. Emergency services 🚨 to the scene. pic.twitter.com/62dk3T6nky

– FernandoCruz (@FernandoCruzFr7) November 4, 2022
Editorial GossipVehicle. With information from A.M.