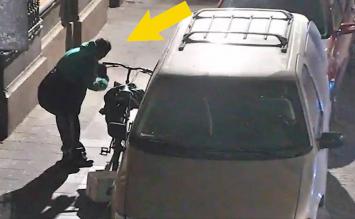 The cameras and surveillance located in the Municipal C4 made it easier for the San Luis Potosí police to arrest a criminal who was engaged in theft of auto parts in the capital of Potosi.
A clip released by the Secretary of Security and Citizen Protection It allows to see the suspicious actions of a man who was riding a bicycle through the streets of the Historic Center with the intention of robbing the parked cars of the place.
The incident took place on the streets Mariano Arista and Uresti, where the subject opened the door of a truck and then searched inside, to the point of opening the hood.
Then he gets out of the vehicle, tries to cover his tracks. closing the door and goes on his bicycle without counting on the fact that the cameras captured the crime.
Minutes later he returns with a box and, after making sure that no one sees him, proceeds to open the hood to enter the battery.
✔️🖲 Municipal C4 activated protocols when detecting a subject trying to steal a vehicle

📍 The events were recorded in Mariano Arista and Uresti Street

🚔👮🏻‍♂️Officers patrolling the area arrived immediately to stop and inhibit the modus operandi pic.twitter.com/stFbDmwR5o

— Secretary of Security and Citizen Protection SLP (@SSPCSLP) October 26, 2022
The guards of the C4 alerted the Municipal Guard of San Luis Potosí, por what the delinquent when the car was inspected was surprised by police elements.
Read More: MX: Driver runs over criminals who tried to rob a CDMX woman (+ Video)
The subject, upon seeing the uniformed officers, tried to flee on his bicycle, being able to advance four blocks until he was arrested.
According to figures from the Mexican Association of Insurance Institutions, San Luis Potosí It is ranked 12th among the states of Mexico in stolen insured cars.
Editorial New Electric Autos Source: the universal