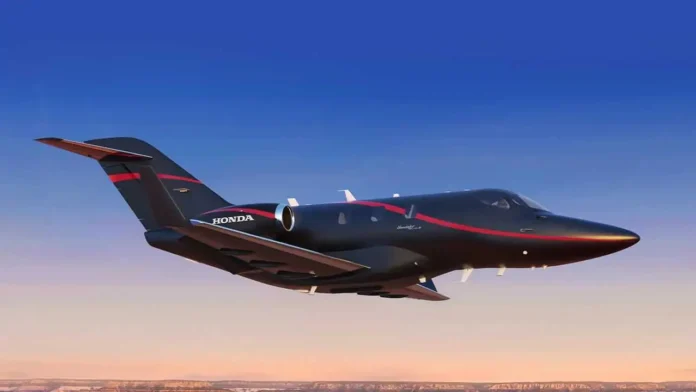 The HondaJet Elite II is the evolution of the airplane Sling that can fly further and land alone in case it is necessary. The company presented with a new Black Edition livery with a dark color and red stripes.
This aircraft now has a larger amount of fuel for a maximum range of 1547 nautical miles with four occupants instead of 1,437 on the existing Elite and Elite S.
The maximum takeoff weight increases to 11,100 pounds a little more of 10,700 the Elite and the 10,900 pounds of the Elite S. Storage space, however, is reduced to 62 cubic feet while the Elite models offer 66 cubic feet.
For the Elite II, features are added that make it easier to fly the plane, such as power steering that helps turn the nose wheel to simplify taxiing. Automated ground spoilers crawl during the landing or a rejected takeoff to help slow down.
After takeoff, the Elite has an optional Autothrottle system that automatically adjusts the "power management based on desired flight characteristics", according to the manufacturer.
Also, the option Emergency Autoland it can land the plane autonomously without the pilot intervening.
Two new color schemes are available inside the cabin: Onyx «greige» with wood details or Steel gray with marble details. It also boasts hardwood floors, crew seats with three extra inches of legroom thanks to an extended rail.
Read More: 2023 Honda Civic Sedan US Pricing Revealed
Jet engines are the familiar GE Honda HF120. Maximum cruise speed is unchanged at 422 knots.
In 2021, Honda introduced the HondaJet 2600 Concept as a demonstration of a model with an even greater scope. This could cover 2625 nautical miles, which was enough to complete a non-stop flight from coast to coast of the United States.
Editorial New Electric Autos Source: Engine1