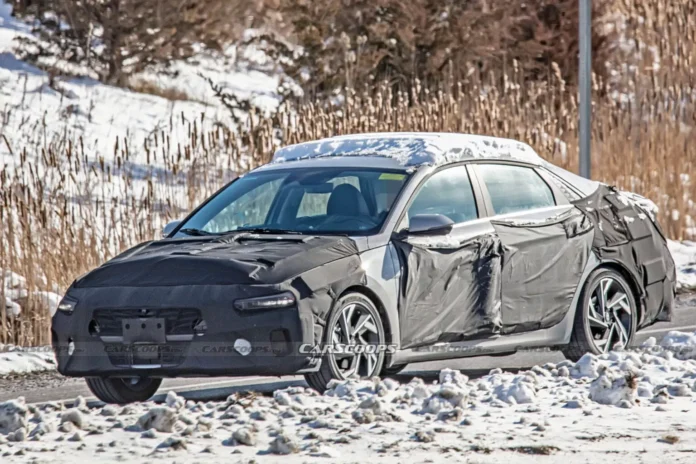 More than two years have passed since the presentation of the seventh generation of the Hyundai Elantra. The model still feels new, but the firm is already working on a mid-cycle update to face the rest of its commercial life, as confirmed by recent spy images taken in the United States.
It is a prototype carrying out tests with its covered bodywork and large camouflage patches. Even so, some changes of style can be distinguished.
The front of the Hyundai Elantra It appears to have undergone a redesign, with slimmer headlamps and a smaller grille that is now separated at the lower bumper inlet and connects to the side inlets via black trim.
There is a possibility that the headlights are on through a led bar which is located just above the grill.
On the side there is also a thick camouflage, probably trying to hide the doors, and the job is well done because nothing is distinguishable. Back, there are two round holes in front of the LED taillights. The shape of the lighting units appears to have changed, along with the tailgate, while the restyled bumper sports repositioned reflectors.
There is no information on the powertrain, but slight changes are expected. In the United States, the standard model It has a 2.0-liter gasoline block with 147hp, and with the most efficient hybrid block of 1.6 liters which produces a combined force of 139hp.
Read More: First spy images of the Hyundai Nexo 2024 reveal an interior with important news
It is also necessary to mention sporty N Line with a 1.6-liter turbo block and inline four cylinders that produces 201hp and the performance flagship with a 2.0-liter turbo that produces 286hp.
The facelifted Hyundai Elantra should debut in late 2023 or early 2024, in the latter scenario as a 2025 model.
Hyundai decided not to market this model in the European market due to the declining popularity of the sedan body style.
Writing New Electric Autos Source: carscoops