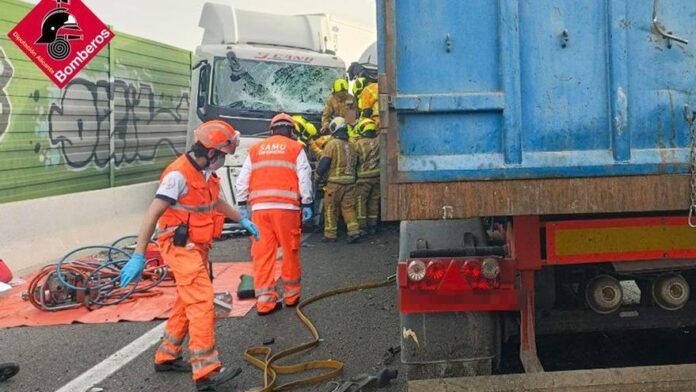 One person ended up dead after a terrible accident involving 6 vehicles in Crevillent, Spain.
The local press reported the death of a person and four others who were injured of varying degrees, two of them seriousafter causing a multiple accident that has involved up to six vehicles, three trucks, two cars Y a van at kilometer 525 of the AP-7, near Crevillent, and that has caused traffic jams on that road.
Regarding the victim, the authorities reported that he is a man, 58 years old and of Belgian nationalityalthough of Dutch origin, which was driving an off-road vehicle.
Meanwhile, the Emergency Information and Coordination Center (CICU) confirmed that there are four other people who have been assisted by medical services. Another 58-year-old man has been stabilized by one of the SAMU medical teams. Subsequently, he has been evacuated due to polytrauma to the General University Hospital of Elchein an ambulance SAMU.
SEE ALSO: Cabify's campaign against the Spanish Ministry of Transport
Another victim was a male, 50 years oldwho has been treated by trauma in a wrist and in a hand. The health personnel decided to transfer him to the Vinalopó hospital in Elche, in the Basic Life Support (SVB) ambulance. While another of the drivers, 41 years old, had a head injury and has been evacuated to the same hospital in the SVA Nursing ambulance.
Another of the injured was a 39-year-old man who was quickly treated by a head injury and has been discharged «in situ».
The local fire team also arrived at the scene to perform four releases people who had been trapped in their vehicles. Two SAMU units had traveled to the scene of the accident, one of them advanced life support Nursing and another of Basic vital support.
For its part, the Firefighters Consortium has explained that at least thirteen firefighters have worked, with two command units, two heavy urban pumps and a rescue van.
The serious accident caused a collapse on the AP-7 motorway at the height of Crevillent, in the area known as La Estación, according to information also collected from sources from the Elche Local Police and the Firefighters Consortium, which has moved several units to the site.
The authorities are investigating what would be the cause of the accidentalthough the first indications indicate that one of the trucks, which was traveling in the direction of Alicante, would have skipped the median of the highway, invading the opposite lane.
🔴 Last minute

Serious accident between two trucks and three cars in the #AP7 in Alicante

1 deceased and 3 injured

📹 Crevillente km 525 direction Valencia pic.twitter.com/8yBKVB4anr

— SocialDrive (@SocialDrive_es) October 19, 2022
Editorial GossipVehicle.