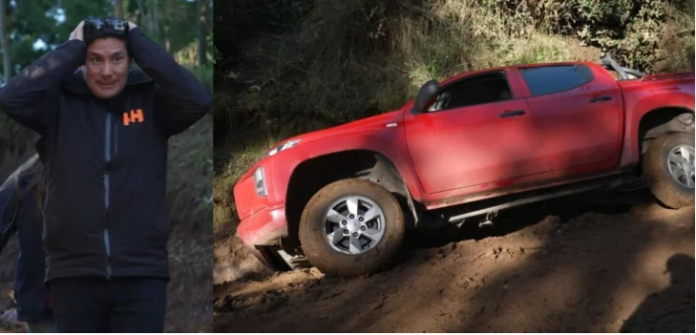 The team of "talking places" He suffered a spectacular accident while they were making the recordings of one of his chapters.
Pancho Saavedra and his team experienced a difficult moment in last Saturday's episode of talking places, while they were in the Maule region. It all happened when in the middle of the recordings, the director of the program, Jorge "Rambo" LopezHe suffered an accident aboard the vehicle he was driving.
"You have to tell the public that we always travel in two vans…", Pancho left saying.
According to the images it was possible to see how the Mitsubishi red was left on the side of the road, product of the bad state of the route.
SEE ALSO: Chile; Operation 60 seconds: Disrupt gang that had stolen 315 cars and with an illicit assets of $6,500 million
"This is not something new for us. In these 10 years making Places that speak, unfortunately we have experienced accidents and today we are experiencing it here, with a part of the team that came in the van", the animator explained.
Meanwhile, "Rambo" López commented that "this place has a kind of clay, so the weight slipped on us and there was no case. We fell and hit."
However, a local man used his tractor to help them, and thanks to this the truck could be recovered. Fortunately, there were no injuries after what happened.
As a result of this, Pancho made a call for the good maintenance of the roads, since if they had been in better conditions, said accident would not have happened.
"It cannot be that a rain comes and stays like this. This is lack of maintenance, two days of rain and this happens. We come in a 4×4 truck, imagine a person who comes in another type of car", lament.
Editorial GossipVehicle. With information from page 7.