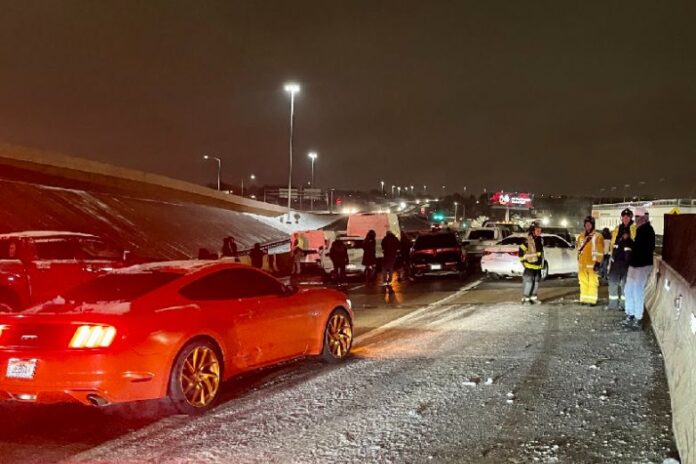 accident in denver on icy roads after heavy snowfall, leaves 100 cars wrecked in multiple collision.
Icy roads cause 100-vehicle collision in Denver crash
This Friday morning in Denver, a terrible and spectacular traffic accident occurred, where about 100 vehicles collided due to the frozen road due to heavy snowfall this season.
See also: Multiple accident in Cadereyta-Nuevo León, leaves 5 people injured and road closure on Federal Highway 57
100 vehicles in a pileup were wrecked along Denver's busy West 6th Avenue.
After the collision, the authorities indicated that the drivers had to withdraw due to the intense cold and because it would take several hours to carry out the cleaning work.
Denver police reported that several blocks of the road are closed in both directions due to "severe shocks". Westbound lanes reopened after noon Friday, however, eastbound lanes remain closed.
The cause of the accident was the first snowfall of the season that, due to the intense cold, froze the road.
Several accidents were reported on the main highways on interstate highways 25 and 70, according to the Colorado Department of Transportation.
The photos of Adams County Fire Department they show several cars involved in the accident near the entrance ramp from US 36 to I-25. So far no injuries have been reported.
The National Metereological Service reported 2-4″ of snow fell around Denver overnight Thursday.
Temperatures dipped into the 20s overnight Thursday, freezing snow to ice sheets all over Colorado's major roads.
Loop of recent radar snows areas of persistent snowfall, which should diminish by 11 pm. Hazardous winter driving conditions will persist through the night due to icy and snowy roads. #COwx pic.twitter.com/5EPzw0GYAc

— NWS Boulder (@NWSBoulder) November 4, 2022
36 Westbound ramp closed on Northbound I-25 due to motor vehicle accident. There were no injuries. pic.twitter.com/2gqBfGypf4

— Adams County Fire (@adamscountyfire) November 4, 2022
36 Westbound ramp closed on Northbound I-25 due to motor vehicle accident. There were no injuries. pic.twitter.com/2gqBfGypf4

— Adams County Fire (@adamscountyfire) November 4, 2022
ROAD CLOSED: EB and WB W. 6th Ave at N. Kalamath St. to N. Federal Blvd closed due to severe crashes. Expect delays in the area: alternate routes advised. #Denver. pic.twitter.com/1fAI3dJw2N

— Denver Police Dept. (@DenverPolice) November 4, 2022
This is a huge, multi vehicle crash from NB 25 to WB Hwy 36. That access is closed right now. pic.twitter.com/ZXs07ShSCw

— Jayson Luber (@Denver7Traffic) November 4, 2022
Writing by Gossipvehiculos/Sources: